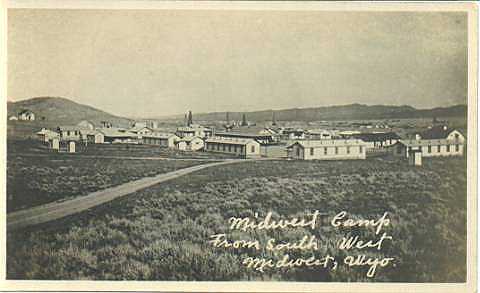 My grandfather eventually took a job in Midwest, Wyoming with Standard Oil. They kept the Homestead but traveled back and forth between the two places. My Grandfather was one of the first to own a Model T. This helped with travel between the two homes.
Standard Oil built homes and set up a community for the families. This was a much better school situation for their four children (as opposed to the one room school house). My Grandmother had my Mom skip 3rd grade. This just made things "easier" in the one room school house.
My Mom can have an extended length conversation about what a poor decision it was to skip a grade to this day. Education was a HUGE factor in our lives. My Mom was obsessed with this. Every year she would purchase all of the text books from Houghton Mifflin so we had a set at home. This started in grade school.
My Grandparents were definitely a "pull yourself up by the bootstraps folk" (as is my Mom). To make extra money my Grandmother did laundry for the men working for Standard Oil. My Grandfather, being the entrepreneur, set up a Moonshine business. They were both very social. My Grandmother played the piano and my Grandfather played the violin (nothing says party like this combo).
As my Mom recalls, friends would stop by, my Grandfather would invite them to stay for dinner. The kids would say "what would you serve them we have nothing?". They would then serve the guests coffee and canned peaches. This is another moment that my Mom found humiliating and dreamed of a better life. It also brings "light" to why whenever Jeff brings up canned peaches my Mom bristles a bit.
One of the stories I have heard from my Mom umpteen times…. The four kids were left in a cafe while my Grandmother had the car fixed. The four siblings had very little money while they waited. A small amount of food was ordered with the money they had. They ended up devouring the ketchup bottle on their table and every other table in their reach. If your hungry you do what you need to do.